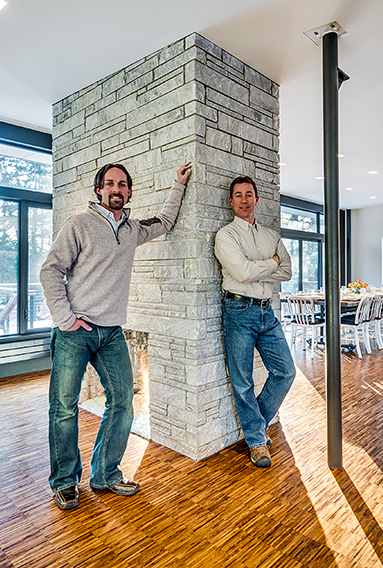 Patriot Custom Homes is a family owned and operated construction company founded in 2004 by brothers Dylan and Anson James. We specialize in building high performance custom homes with sustainable and passive design while delivering superior craftsmanship. We have adopted "Committed to Green Building" as our slogan because we know how to build a better, more efficient, and healthier home, and to Patriot Custom Homes, there is no other way.
Building a high performance custom home is an exciting process that demands the knowledge, experience and dedication that Patriot Custom Homes provides. Our priority is to deliver healthy homes by practicing passive design principles, while utilizing earth friendly products and materials that contain minimal or zero VOC's.
We treat every project as its own unique home with a new opportunity to take advantage of the most advanced building science design principles. Remaining proactive in researching technologically updated products and materials enables us to create high performance homes. Modern design theories coupled with cutting-edge energy efficient mechanical systems, and proper installation techniques, are considered and encouraged for each new project. Every home is unique and deserves its own custom architectural flair and mechanical design to optimize its performance.
The James Brothers
Dylan and Anson James, originally from Lexington Massachusetts, come from a family of General Contractors, developers and true craftsman. Both were directly involved in all aspects of residential construction for the majority of their lives. Dylan is a graduate from Rochester Institute of Technology with a degree in Civil Engineering. He worked as a project manager at a Civil Engineering and Surveying firm where he managed the design, permitting, and construction of residential homes and commercial development projects. Anson is a graduate from Merrimack College with a degree in Business Administration with a concentration in Management. In 2004 they decided to unite their individual experiences and education to assist in the Green Housing movement and make a real impact in the construction industry by delivering high performance custom homes.